Gold: is this time different?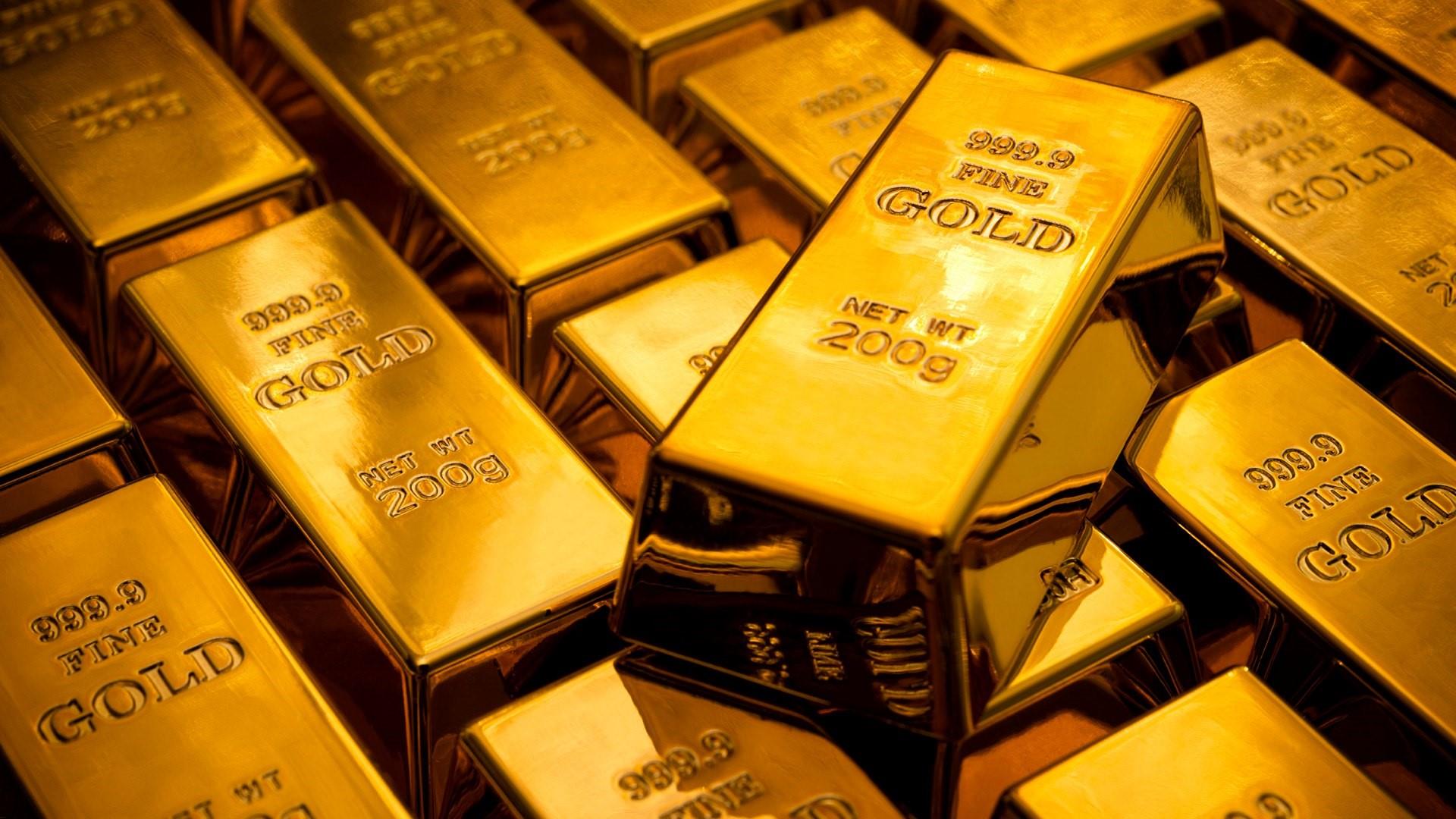 On September 6, 2011, the gold price reached its highest value, marking a high in the day of 1.920,30 usd.
If we look to a historical chart, we can see that from that date began a slow but relentless decline that led the price of the precious metal to a minimum of 1.045,85, touched at the beginning of December 2015 (L1). After that low, there were two successive higher lows: one at the end of 2016 (L2) and another in August of this year (L3). The highs, on the other hand, reached the same price area around a level of 1.355/1.375. The first in July 2016 (H1), the second, which temporarily up crossed the down trendline, in September 2017 (H2) and the third, which again and temporarily up crossed the down trendline, at the beginning of this year (H3). Currently the price is trying to up cross the down trendline for the third time and the weekly oscillator has already given a buy signal (1).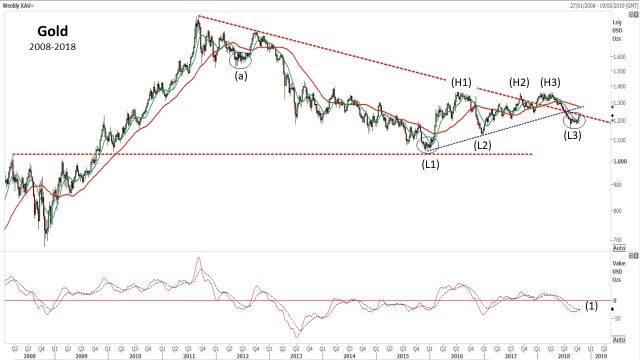 The last low was formed after a weakening of the price level, which led to a break of the short term up trendline. It would therefore be better to have a confirmation of a recovery of the price strength by an up cross of the zero line from the MACD oscillator, and by a return of the price above the short term up trendline (that also coincides with the 200-day moving average). Given the known negative correlation between gold and Dollar index, a possible rise in gold, it is reasonable that should lead to an increase in the eur/usd cross rate towards 1,20/1,25.
Another interesting thing is the fact that the current low is forming after a price consolidation that lasted several weeks. Such a pattern has been observed two times since 2011, and in both previous cases it was the forerunner of a short-term bullish trend (point (a) and (L1)). The same consolidation pattern can also be detected at the opposite, i.e. in top situation that have then led to short term downtrend as in the points (H1) and (H3).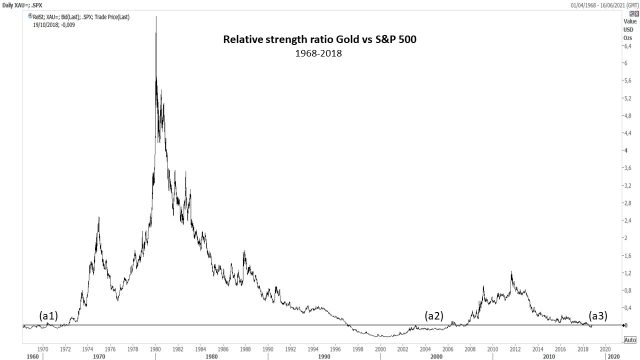 From a relative strength point of view, there are no relevant signals. The ratio indicates a short-term movement in favour of gold, but the whole is framed in a medium to long term bearish movement. Note, however, that the level of the ratio is now in an historical lows level area (a3). This area has seen the permanence of the ratio in two periods: between 1968 and 1972 (a1), and between 2003 and 2008 (a2).
Mario Valentino GUFFANTI CFTe – SAMT Vice President – Swiss Italian Chapter – mario.guffanti@samt-org.ch
Disclaimer: the above article is for general information and educational purposes only. It is not intended to be investment advice. Seek a duly licensed professional for investment advice.