During the first week of 2019, the Japanese Yen unexpectedly depreciated against the US Dollar by 459 pips or 4.20%. The currency exchange rate fell to the 104.85 point, making a first USD/JPY low in 2019.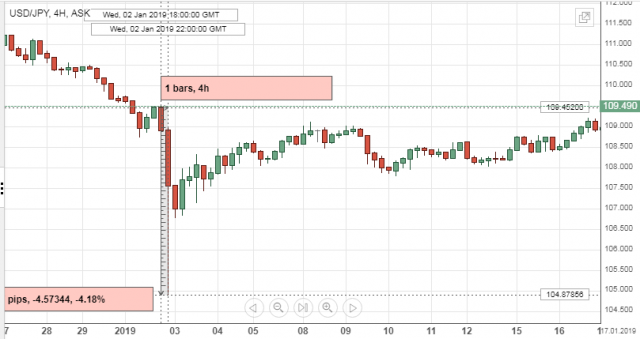 No official report or news is explaining the decrease of the Japanese Yen against the US Dollar. Most likely, the US Dollar depreciated massively in value, as starting the New Year there was a massive selling in the US stock markets. When US stocks are sold, the sellers are left with a significant amount of USD. Those funds then dilute the market, as there is more of the currency available.
If you still have any questions regarding the USD/JPY rate fall, please feel free to contact Dukascopy Analytical Department via email at research@dukascopy.com.
Also, make sure to check out our YouTube page where you can find more explanatory videos of macroeconomic event impact on different currency pairs discussed during the Week's Economic Calendar Review.