Real Estate: Hong Kong explores cavern to fix shortage problem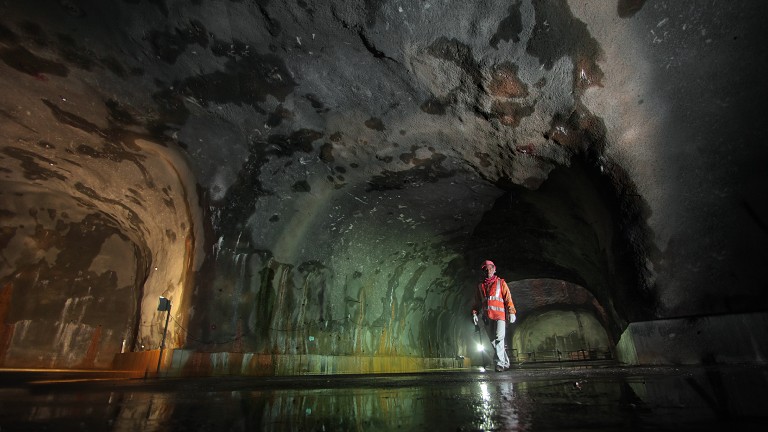 Space-strapped cities like New York and San Francisco may think they have it rough, but the booming Hong Kong may have an even more immediate problem.
More than 7 million people live in the 427 square mile autonomous region of the People's Republic of China. Country parks take up 41 percent of the land mass, all of which is dotted by steep hills, making it difficult to build anywhere. Many high rises have maxed out on height restrictions. Meanwhile, housing prices hit record highs this spring: Hong Kongers are paying nearly $1,500 per square foot. The average home costs $1.8 million. The population surge is making real estate developers consider becoming cave-builders.
The Hong Kong government has begun searching for a long-term solution, one that may include building underground for non-residential purposes, according to a report in Wired. Hong Kong officials have considered cavern excavation since the 1980s, following in the footsteps of engineers for projects in Norway and Kansas.
A booming economy has led to commensurate economic growth, with 2017 growth expected to check in around 3.7 percent. Developers are struggling to house key sectors that help the economy run. Additionally, they are being forced to navigate stiff building restrictions that make it harder to build more in developed areas.
"All the urban flat land in Hong Kong is already a built-up area," Tony Ho, chief geotechnical engineer of the Hong Kong Special Administrative region's Civil Engineering and Development Department told Wired.
However, rezoning and building in rural areas could provide some temporary relief, the report noted. The government is exploring options to make more space for housing above ground by relocating facilities — like water and sewage treatment plants, data centers and reservoirs — underground.
"What we are thinking is, if we can best use the underground space resources, we can turn the constraint into an opportunity," Ho told Wired. Longer-term, the project could redefine public spaces in the region.
The government has already earmarked funds for future projects and kicked off feasibility studies. In 2017, the government conducted a study, pinpointing 48 prospective caverns for long-term development, and has six more studies underway.
The plan is not to make people live like bats in these cool, dark spaces. Instead, the newly created real estate could host sewage and water treatment plants, data centers, reservoirs, and storage facilities. The government is considering other (lower priority) options, too: archives, oil, gas, or wine storage, bicycle and car parking, laboratories, and sports facilities. The caverns could hold mausoleums, mortuaries, incinerators, crematoriums, and, to round out the death theme, slaughterhouses.
Big plans don't come cheap. The Hong Kong government estimates rock cavern excavation alone can range from $190 to $250 per cubic foot; total cost of construction might be $320 to $450 per cubic foot. One very small, 12-car parking garage could cost $7.3 million to construct.
If Hong Kong is willing to shell out all the money, it should get some good, hardy infrastructure for its buck. The timeline, though, is still very hazy. One sewage and treatment facility has made it through the design phase, with construction set to begin in 2018 or early 2019. The other prospective cavern projects are still being studied. If they're approved, they'll go through detailed designs and then construction. That's likely a decade-long process, says Mark Wallace of the engineering firm Arup, which is working with Hong Kong on the long-term project.