Swiss franc, down due to Russia sanctions?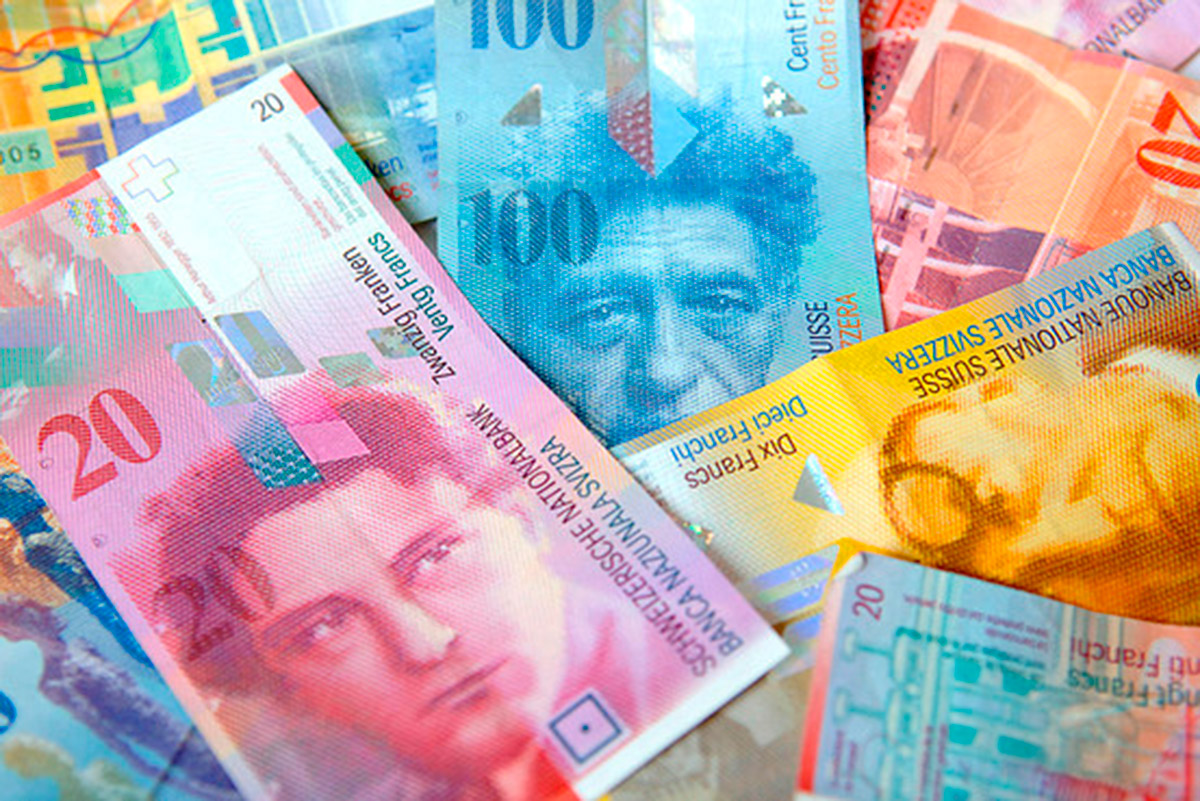 The Swiss franc held at the lowest level in three years against the euro Friday, with some market experts citing U.S. sanctions against Russia as a key driver in the safe-haven currency's puzzling tumble amid increasing global market volatility.
The franc traded at 1.2005 against the euro in early trading, breaching for the second consecutive session the 1.20 line-in-the-sand that was abandoned by the Swiss National Bank in January 2015. Two years earlier, as the euro plunged amid its existential debt crisis, the SNB vowed to intervene in the currency markets to keep the franc from appreciating and slowing the pace of growth and inflation in the alpine economy.
However, even amid renewed market volatility and increasing economic and geo-political risks, the franc has been losing ground against other safe-haven currencies, such as the yen, suggesting investors are either looking for alternatives to the franc's previous allure or that big capital flows are pressuring it in international markets.
"Though the perennially dovish SNB and CHF's funding currency appeal amid returning carry appetite are logical explanations, we note two more unusual factors that might also account for its recent underperformance," wrote ING foreign exchange strategist Viraj Patel. "US sanctions on Russian-related Swiss investments (note 14% of total Russian cross-border outflows in 2017 were to Switzerland – almost three times that of the US … and the 'Vollgeld Initiative' referendum on June 10 – a contentious, and potentially detrimental, national vote on whether to abandon the current fractional-reserve banking system."
The former seems more likely, according to Rabbobank's senior foreign exchange strategist Jane Foley, who told Bloomberg Television earlier Friday that investors moving cash back to Russia in the face of current and potential U.S. sanctions is part of the franc's new dynamic.
In fact, the franc has fallen 1.685% against the euro since the U.S. Treasury Department announced the sanctions on April 6 while the yen is little-changed at 1.0760.
"The Russian government engages in a range of malign activity around the globe, including continuing to occupy Crimea and instigate violence in eastern Ukraine, supplying the Assad regime with material and weaponry as they bomb their own civilians, attempting to subvert Western democracies, and malicious cyber activities," Treasury Secretary Steve Mnuchin said in a statement.
One example investors cite is the case of Swiss engineering group Sulzer, which saw its shares plunge and recover in a matter of days, after it said it bought back 5 million shares from Renova, an investment vehicle of Russian oligarch Viktor Vekselberg, one of the twenty four targets of recent U.S. sanctions linked to Russia's actions in Syria