Forex: NZD/USD mix signals today
The New Zealand Dollar deprecated about 111 base points against the US Dollar on Wednesday. The decline was temporarily stopped by the weekly S1 at 0.6747 during the end Wednesday's session.
As for the near future, it is likely that the NZD/USD currency exchange rate makes a brief retracement towards a resistance cluster set by the 100-hour simple moving average and the weekly PP at 0.6829.
However, technical indicators suggest that the decline of the exchange rate will continue within this session.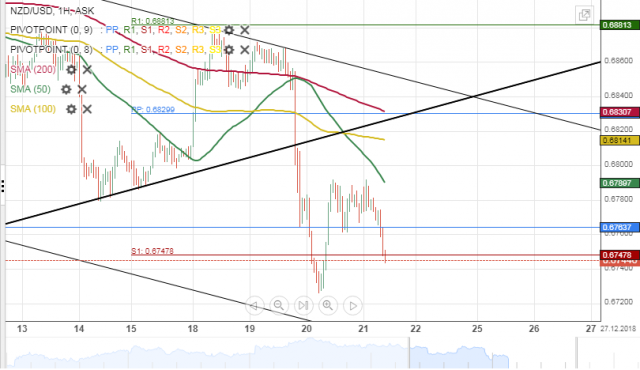 Positions
Today
Yesterday
% Change
Longs
50%
49%
2.00%
Shorts
50%
51%
-2.00%
Indicator
4H
1D
1W
MACD (12; 26; 9)
Sell
Buy
Sell
RSI (14)
Buy
Neutral
Neutral
Stochastic (5; 3; 3)
Buy
Buy
Neutral
Alligator (13; 8; 5)
Sell
Neutral
Neutral
SAR (0.02; 0.2)
Sell
Sell
Buy
Aggregate
⇒
⇒
⇒